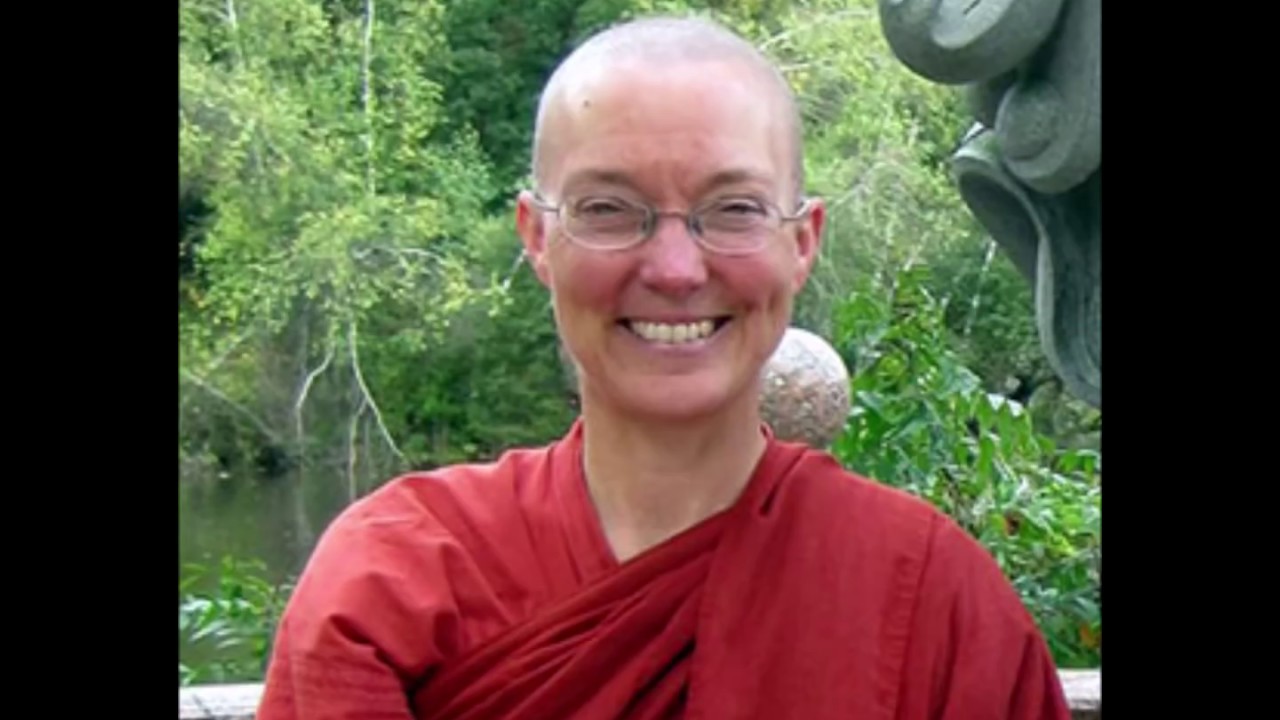 Guest Teacher – Venerable Ayya Santussika
Venerable Santussika Bhikkhuni began exploring meditation in the late seventies. In 1996 she joined a Kriya yoga-based center, where she deepened her meditation practice and made spiritual development the central theme of her life. In 2002, she received a Masters of Divinity degree after completing a four-year interfaith seminar program to become a minister. In 1999, Ayya Santussika made her first trip to Thailand to visit her son who had ordained there as a monk in Ajahn Chah's international monastery, Wat Pah Nanachat. As a guest at the monastery and mother of a monk, she was able to spend a lot of time with the monks and learn from many of Ajahn Chah's students. Over the years, she traveled to Thailand once or twice each year to stay in various monasteries, learning from master teachers including Ajahn Jayasaro, Ajahn Anan, Ajahn Dtun, Luang Ta Maha Boowa, and Ajahn Pannavaddho. During those years, she also visited Abhayagiri Buddhist Monastery many times and in 2003 formally became a student of Ajahn Pasanno. In 2004, she spent time in Australia with Ajahn Brahm and at Ajahn Kalyano's monastery near Melbourne where she met Ajahn Plien, whose teachings strongly impacted her development.
With a gradual deepening of her faith in the Buddha, Dhamma and enlightened Sangha, it became clear to Ayya Santussika that she wanted to become a Theravada Buddhist nun. She took Anagarika Precepts with Ayya Tathaaloka Bhikkhuni in 2005 and spent a year helping start Dhammadharini Vihara. She then took up training at Amaravati and Chithurst Monasteries in England until 2009, when she moved with three of the Siladhara nuns to San Francisco to start Aloka Vihara. Desiring full ordination, Ayya Santussika turned to the Sri Lankan tradition. She received samaneri ordination in 2010 and bhikkhuni ordination in 2012 at Dharma Vijaya Buddhist Vihara with Ayya Sudarshana as her preceptor.
In 2012, with the help of Venerable Bhikkhu Bodhi and her son, Ayya Santussika started Karuna Buddhist Vihara, a neighborhood Theravada monastery for bhikkhunis now located in Mountain View, CA. Her teachings are primarily based on the suttas of the Pali Canon as they are applied to everyday life and lead to awakening. The intention at KBV is to strive as diligently and energetically as possible for the realization of Nibbāna and to help as many people as possible to improve their lives and do the same. As the citta (heart/mind) develops in sīla (moral virtue), samādhi (meditation) and paññā (wisdom), mettā (loving kindness for all beings) and karuṇā (compassion) blossom as well.
Join us Sunday, August 22, 9:30 – 11:00 am, on our YouTube Channel for our YouTube channel, Facebook page, or Newsletter.